Honeymoon



We are going to Beijing, China and Mongolia on our honeymoon. Below is a description of the tour we are going on.
When we think of the horsemen who followed Ghengis Khan, and of the nomadic lifestyle still associated with the Mongolian people, we think in terms of rolling grasslands stretching from horizon tohorizon. But there's more to this northern Autonomous Region than rolling plains — and better ways to explore it than by four-wheel-drive. This new program shows you a complex country, with dramatic landscapes ranging from the glacial lakes of the Hovsgol Aimag to the sacred sand dunes of the Gobi Desert. And you'll see Mongolia from horseback and camelback: a traditional point of view that will help illuminate the history, scenery and indigenous culture of this remote land.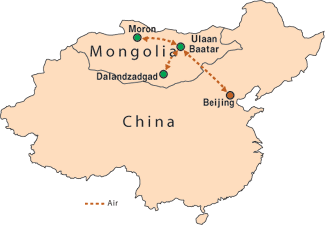 Your adventure starts in Beijing, with three nights of exploration in and around the capital of the country which now rules Mongolia — though in the days of Kublai Khan, the reverse was true. Then it's on to friendly Ulaan Baatar, the only capital city in the world with tent-dwelling suburbanites, to explore amid monasteries and museums. The next three days are spent on horseback in the lush Lake Hoysgol region, with an opportunity to meet the shy Tsatang, Mongolia's fabled "reindeer people." The scene then changes dramatically as you travel into the Gobi Desert, to trek through the Yolin Am gorge and ride a camel across the sands to the Moltsog Els sand dunes. Back in Ulaan Baatar, the adventure ends with a Mongolian feast and a return to Beijing by air.